First Alert Smart Onelink Smoke + CO Alarm - Hardwired (1042135)
Availability: Sorry, this item has been DISCONTINUED.
You Save: $39.00 (22% Off)
Hardwired Onelink Smart Smoke and Carbon Monoxide Alarm
2-in-1 smart smoke and carbon monoxide alarm alerts you to both types of danger in your home, with a photoelectric smoke sensor and electrochemical carbon monoxide sensor
Alarm sends emergency notifications, via your phone, while voice alerts tell you the type and location of danger
Conveniently test and silence alarm via Onelink Home App
Interconnects with existing traditional hardwired alarms and other Onelink devices (sold separately) to create a smart home safety network. If one detector is triggered, all connected alarms will sound off.
Works with Amazon Alexa, so you can ask Alexa to check the status of your Onelink alarm (Alexa device sold separately).
Hardwired - Quick and easy installation with included AC adapter plugs
Compatible with Apple HomeKit; can be used on both Apple and Android devices


Product Features
Onelink Smart Smoke + Carbon Monoxide Alarm - AC Power
Add intelligent protection to your home with the Onelink Smoke & Carbon Monoxide alarm. This 2-in-1 combo alarm detects both smoke and carbon monoxide. Regardless of whether you're home or away, you'll be notified when smoke or co is detected. This First Alert Onelink Combo Alarm is capable of identifying the type and location of the danger. You'll also be able to create a personalized smoke and carbon monoxide safety network by interconnecting other compatible alarms.
Mobile Connectivity through the Onelink Home App
This alarm sends you notifications in the event of a smoke or carbon monoxide emergency. With the Onelink Home app, you can also test and silence your alarm.
Smart Home Safety Network
Wirelessly interconnect with other First Alert & Onelink devices (sold separately) to create a smart home safety network. When one alarm is triggered, all connected devices will sound off. This alarm is also compatible with Amazon Alexa, so you can ask Alexa to check the status of your Onelink alarm. The Onelink Home App is compatible with both Android and Apple devices.
Voice Alerts and More
Emergency notifications alert you to danger via your phone, while voice and location technology tell you the type and area of danger; the Onelink also uses a traditional 85-decibel siren.
Hardwired Alarm with Easy Setup and Installation
The Onelink Smoke & Carbon Monoxide Alarm connects easily to electrical systems using the included AC adapter plugs so you don't have to rewire (AC power is required for Onelink). Includes a 10 year sealed lithium battery backup so you are always protected even in a power outage.
Battery Backup for Continuous Protection
This Hardwired Onelink Smoke & CO Alarm is equipped with a ten year sealed battery backup for protection during power outages.
Onelink Hardwired Smart Smoke + Carbon Monoxide Alarm (3nd Generation) 1042135
How to Install First Alert 1042135 Onelink Hardwired Smoke & Carbon Monoxide Alarms:
In this guide, we'll be showing you how to install First Alert Hardwired Smoke and Carbon Monoxide Alarms. Here are a few items you'll need before starting the installation process: Needle-nose pliers or utility knife, screwdriver, wire stripper, wire nuts and a ladder.
Hardwired Smoke or Carbon Monoxide Alarm Requirements:
120V household electrical circuit (unswitched 120VAC)
Standard wiring junction box to a 4 in. (10 cm) size, on either the ceiling or wall
Selecting an appropriate location to install your smoke and carbon monoxide alarms (see below guidelines for additional information):

When installing an alarm on the wall, the top edge of an alarm should be placed between 4 in. (100 mm) and 12 in. (300 mm) from the wall/ceiling line.
When installing an alarm on the ceiling, place the alarm as close to the center as possible.
In either case, install the alarm at least 4 in. (100 mm) from where the wall and ceiling meet.
---
Connecting First Alert Hardwired Alarms to 120V Wiring
To begin, turn off power at the junction box and connect your alarm to the building's electrical wiring.
Locate the junction box and turn off power
Remove the power connector from the new alarm's packaging
Using wire nuts, attach the hot (black), neutral (white), and interconnect (orange) wires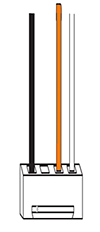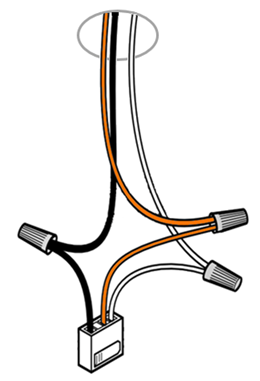 Black wire
(hot)
Attach to black wire on power connector
White wire
(neutral)
Attach to white wire on power connector
Orange wire
(interconnect)

Standalone (single-station) alarm: This wire is not needed; tuck the orange wire into the junction box.

Interconnected alarms:

Strip 1/2 in. from the orange wire on the connector
Use a wire nut to attach it to the orange wire in the junction box (see image below).
---
Mounting First Alert Hardwired Alarms
Secure the mounting bracket to the ceiling or wall using screws (included in the package)
Insert the power connector into the plug on the back of your alarm
Tuck any hanging wires into the junction box
Position the base of the alarm onto the bracket and turn it clockwise until it's secured
Remove the pull-tab to activate the backup battery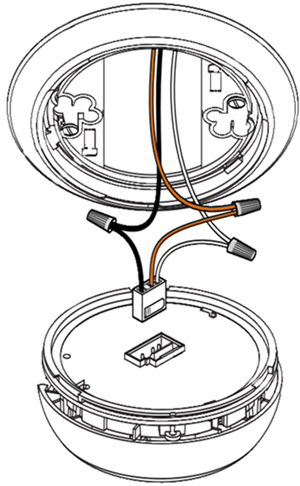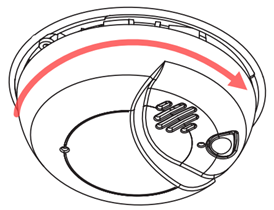 ---
Installing Additional and/or Interconnecting First Alert Hardwired Alarms
If you are installing more smoke or carbon monoxide alarms, you'll want to repeat the process throughout the building. Interconnected smoke and co alarms must meet all requirements:
The same fuse or circuit breaker must power all interconnected alarms.

Up to 18 compatible detectors can interconnect, with a limit of 12 smoke alarms.

The total length of wire interconnecting the alarms should be less than 1,000 ft. (300 meters). This type of wire is commonly available at hardware and electrical supply stores.

All wiring must conform to all local electrical codes and NFPA 70 (NEC). Refer to NFPA 72, NFPA 101, and your local building code for more information.

Interconnect wiring diagram: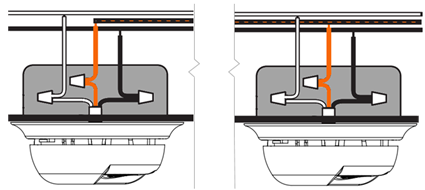 If you have any doubts or reservations about these interconnect requirements, please contact an experienced electrician to install your wiring and hardwired alarms.
---
Restoring Power and Testing Hardwired Alarms
Once you've installed your hardwired alarms, you'll want to restore power to the junction box. Under regular operation, the power indicator light on the alarm will shine/blink to indicate that it is receiving AC power.
Here's how you can test standalone or interconnected alarms:
Standalone Alarms: Press and hold the Test/Silence button until the unit triggers an alarm.

Interconnected Alarms: Press and hold the Test/Silence button until the first unit triggers an alarm. All interconnected detectors should sound off. Repeat this process to test each alarm in the interconnected series.
What features can I use if Wi-Fi goes out?
You will be able to use the alarm functions and bluetooth streaming from a device - Alexa functionality and receiving push notifications require a Wi-Fi connection.
How do I install a First Alert Hardwired Smoke & CO Alarm?
Switch off the circuit breaker for the area where you'll be installing the Smart Smoke + CO Alarm.
Install the new mounting bracket.
Use the included easy adapter to plug your alarm into your home's AC power.
Hold the alarm firmly against the mounting bracket.
Twist the alarm clockwise until it can't be turned further. You will hear a single loud chirp when mounting is successful. This means the backup battery has been activated.
Switch your circuit breaker back on.
Check the alarm. It will pulse blue when it's activated and ready to pair with your mobile device.
Can I turn off the night light feature?
The LED lights on the Onelink alarm not only provide a nice glow to light up your route, but they also indicate that the alarm is receiving AC power. You can adjust the brightness level of the nightlight through the Onelink app. When you disable the nighlight two LEDs will glow green on the Onelink alarm letting you know that you have AC power. If the LED is turned off, it indicates your alarm is running off of battery backup.
Why can't I change my nightlight color to red in the Onelink Home App?
The color red has been reserved for smoke and carbon monoxide emergencies as well as Alexa privacy mode.
Will the Onelink Safe & Sound work with my other smart detectors?
The Onelink Safe & Sound will interconnect with most hardwired smoke and CO alarms. This includes all BRK and First Alert alarms and most Kidde, Fyrnetics, Lifesaver and Firex alarms.
What is the distance you need to be within to interact with the Onelink Safe & Sound?
You need to be within 15 feet.
Does the Onelink Safe & Sound require rewiring?
Included with the Onelink Safe & Sound are easy adaptor plugs, so you do not have to rewire to install your alarm.
Does this device support Alexa?
Alexa voice services are not supported, so you can't talk to Alexa with this unit. However, if you have an Echo or similar Alexa-enabled device, you can use Onelink Alexa skills to check in on your detector. The nightlight on the hardwired alarm can also be controlled with Alexa.
Does this product require professional installation?
The Onelink Safe & Sound is meant to be a DIY installation. To install, simply remove your current alarm and bracket and install the Onelink Safe & Sound. The app will guide you through the process. Included with the Onelink Safe & Sound are easy adaptor plugs, so you do not have to rewire to install your alarm.
I just installed my Smart Smoke & CO Alarm. Why does it keep beeping and chirping?
Sometimes, alarms may beep or "chirp" to let you know that something isn't right. A chirp is quieter and more intermittent than a regular alarm. Chirping is typically caused by improper mounting, a low battery, or alarm end-of-life.
Product Details
Power Source: Hardwired
Battery Backup: 10 Year Sealed Lithium
Sensor: Photoelectric and Electrochemical
Smart Technology: Helps reduce nuisance alarms
Noise Output: 85 dB with Voice Alerts
Voice Feature: Announces programmed location of the unit and danger detected
Wi-Fi and Bluetooth Wireless Interconnect: Can be linked with other compatible alarms
Bluetooth Mesh Network Communication: Allows alarms to speak with one another
Wi-Fi Enabled: Receive notifications via iPhone, iPad and iPad Touch (Requires iOS 9.0 or later)
Compatibility: Apple HomeKit and Google Play
Multicolor Ring: Provides visual indication of various alarm states
Single Button: One press to silence and test alarm
Standards: UL 217 and UL 2034
Warranty: 5 Year Limited
Product Dimensions (LxWxH): 5.88 x 1.57 x 5.88 in.
Product Weight: .75 lbs.
Product Specs
Product Manuals
First Alert Onelink Smart Smoke + CO Alarm - Hardwired (1042135) Video
If you are interested in ordering a large quantity of items you may qualify for volume pricing discounts. Volume Discount Pricing is a great way for customers to save big on large, bulk orders of most items available in our store. Please send a bulk order request to our friendly sales staff so they may create a quote and provide personal service for your order! You will receive a response within 1-2 business days and our office hours are Monday through Friday, 8am-5pm CST.
We make it as easy as possible to ensure you get the lowest prices available:
Let us know what products & the quantities you are interested in.
Get a detailed quote from a dedicated sales rep.
Our warehouse ships directly to you.
You enjoy the savings & are now a preferred customer.
Send A Request Now
First Alert Onelink Smart Smoke + CO Alarm - Hardwired (1042135) Reviews
This item works very well just what I needed so that I get notified of an alarm at my house when I'm not home. This was an upgrade to the system I have in place without replacing every smoke head I have,
Easy Install
The product came with all the hardware needed for the install. Enrolling it into HomeKit was easy if you strictly follow the instructions. I ran into some trouble and had to reset and start over.
These seem to be very good units, and make a great upgrade from my old ones.
Michael S
January 8, 2022
Excellent
Very impressed with the Onelink, the install, setup and configuration was very quick and easy
Michael S
January 4, 2022
Great product
The directions were very clear, the installation was simple, the setup and configuration was straightforward. I specifically like the ability to know which alarm was the source of the detection and the remote monitoring when I'm out of the house.
Kristen D
November 17, 2021
Easy Installation
Purchased the One Link hardwired detector to compliment our Home Kit accessories. Installation was simple as we current have First Alert hardwired detectors - The quick connect harness from our previous detector fit this system. Home Kit setup took longer than installation, but I expected technology issues….Here's to hoping that the detector sits mounted to the ceiling and never needs to be active!!
Onelink hardwired alarm
Easy to install and set up!
JAMES DAVISON
October 20, 2020
Sleek and Minimal
Product is very install to install. We choose it for the sleek and minimal profile.
installation was pretty easy, hard part was navigating my step ladder into and out of the house. You can launch the OneLink Home app from within AppleHomekit to see detectors status smoke and carbon monoxide and battery status, and you can initiate alarm test from your cellphone. I haven't had a fire yet or a CO alert when not home or even if I was home, but presume those notifications will be delivered to my iPhone. Now if they would only make a OneLink explosive gas detector for natural gas, LP leaks...
Patrick Whelley
November 24, 2019
Easy setup
All the parts I needed to hard-wire this unit to my house were in the box. After install using the app to set up WiFi and alerts was just as simple. Setup was easy.