Protect what Matters Most with First Alert this Tax Season with First Alert Security Chests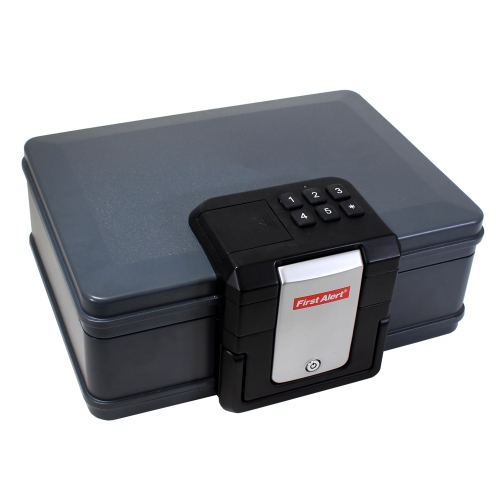 The First Alert brand has always prioritized the safety and wellbeing of its customers by releasing a quantity of
Home Security
products such as
Security Cameras
,
Security Chests
and
Executive and Gun Safes
. Distinguishing itself even further as an elite option to secure the ultimate in peace of mind, the First Alert brand is responsible for releasing a series of reliable and performance exceeding
Smoke Alarms
,
Carbon Monoxide Alarms
and
ONELINK Wireless
Products. For this entry, we'll be focusing on a collection of First Alert Security Chests that can mean all the difference in thwarting off criminal activity and preventing the elements from ruining your valuables.
First Alert Security Chests combine all of the necessary safety enhancers one would usually associate with a superiorly crafted product. Constructed from an incredibly resilient and durable material, the
First Alert .39 Cubic Foot Waterproof and Fire Resistant Chest
can withstand advanced temperatures exceeding beyond 1500 degrees for 30 minutes. First Alert has also implemented a waterproof seal that will actively protect your chest's contents from any and all water damage. These features are further bolstered with the inclusion of a clamping style latch and key that offers the maximum in peace of mind. Ideal for digital media and letter sized documents, this UL classified First Alert Waterproof and Fire Resistant Chest is a premier defender in more ways than one.
For those looking for an even larger option that features all of the strengths and versatility of the previous model, the
First Alert 0.62 Cubic Foot Waterproof Fire File Chest with Digital Lock
fits the bill with flying colors. Ideal for safeguarding standard size hanging file folders, computer discs, USB flash drives and an assortment of other items that you simply cannot afford to lose, this First Alert File Chest excels as a leading choice to preserve your valuables. Showcasing a construction celebrated for its durability, this chest features a 4 to 8 digit programmable digital lock with an emergency override key.
As a special online exclusive, the First Alert Store will be offering a shipping discount on the entirety of its First Alert Security Chest collection. This is a time sensitive opportunity that will be applicable for the month of March and will effectively end on March 31, 2015. Protect what matters most this tax season with First Alert and their ever evolving selection of premier security enhancers.
---