Plan, Prevent and Protect your Home this winter with First Alert Carbon Monoxide Alarms
The winter months heighten the already potential lethal properties associated with carbon monoxide. It is absolutely essential that homeowners have access to a CO alarm that will readily alert their surroundings to the presence of the "silent killer", carbon monoxide. The
First Alert Store
offers a collection of carbon monoxide alarms that will allow homeowners to achieve the maximum in peace of mind this winter.
First Alert Carbon Monoxide Alarms
represent a definitive means of safeguarding a household from the odorless, tasteless and colorless threat of carbon monoxide.
The lethal properties associated with carbon monoxide are elevated during the winter months due to an overreliance on gas powered heating appliances. This correlates with similarly constructed products that utilize propane, kerosene or coal in a poorly vented area. Throw in the winter variables of freezing pipes/uneven heat distribution and you have all the ingredients for a potential disaster. First Alert Carbon Monoxide Detectors can provide that much needed boost in security when it comes to erasing the threat presented by this very subtle and often lethal threat. First Alert's
Basic Plug-In Carbon Monoxide Alarm
utilizes an electrochemical sensor (the most accurate technology available) that allows for optimal efficiency in detecting carbon monoxide. Easily accessible with any standard outlet and featuring no additional mounting, this Plug & Protect Alarm is incredibly versatile and features no shortage of valid installation options.
The First Alert Store also showcases a selection of CO alarms that allow for ten years of steadfast protection. The
First Alert Carbon Monoxide Alarm with Temperature, Digital Display and 10-Year Sealed Battery
uses an electrochemical sensor to detect carbon monoxide. Versatility has been bolstered with this model's inclusion of a backlit digital display that will allow owners to monitor CO levels and ambient room temperature. This First Alert CO Detector also uses an electrochemical sensor that's optimal for detecting traces of carbon monoxide. Powered by ten year lithium batteries, this alarm offers a decade's worth of protection and removes the necessity of battery change.
First Alert's
10-Year Sealed Battery Combo Photoelectric Smoke & CO Alarm with Slim Design
offers dual protection from both smoke and carbon monoxide. This 10 Year combo alarm features a photoelectric sensor that's ideal for detecting slow smoldering fires and carbon monoxide while simultaneously reducing the chances of triggering nuisance alarms. Featuring a prolonged lifespan of ten years, this model utilizes a ten year sealed battery that ensures a decade's worth of uninterrupted awareness. The realization of a tamperproof design and the inclusion of a battery that doesn't require a replacement provide the ultimate in longevity and security.
By continually striving to deliver the most intuitive and technologically superior equipment on the market, First Alert has earned its reputation as an invaluable ally in bolstering security. The
First Alert Store
features these three carbon monoxide detectors and a selection of others that can safeguard any household from the many dangers of CO this winter.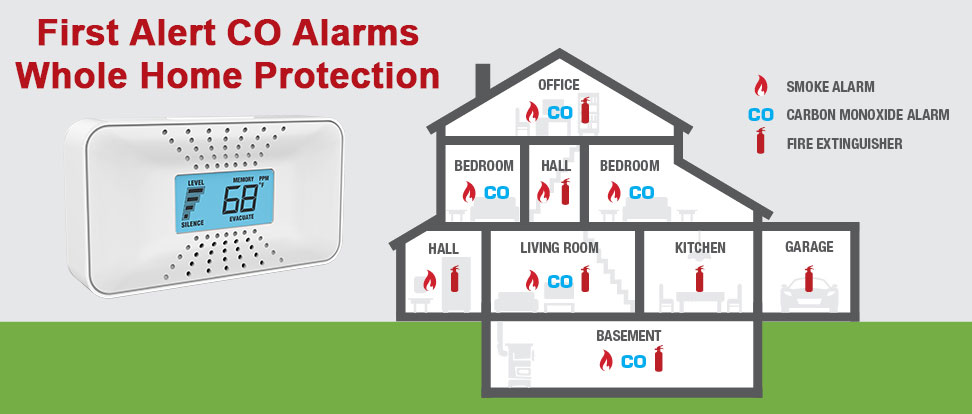 First Alert Store News Archive