Z-Wave Smoke Detector & Carbon Monoxide Alarm With Real Time Notifications
What is a Z-wave alarm?
Z-Wave is a wireless protocol that uses radio waves to to help smart devices or appliances communicate with one another. Incorporating Z-Wave technology into a series of smoke and carbon monoxide alarms provides a host of intuitive benefits unavailable in other detectors.
Advanced Smoke + Carbon Monoxide Detection means that you'll be alerted to these two threats by way of a a loud (85dB) alarm as well as a notification via your mobile device. This ensures additional protection by offering a means of maximizing your peace of mind while you're away from your home. (Z-Wave works with Ring Alarm Security Kit)

Interconnected Alarm Feature: This will allow you to link multiple First Alert Z-Wave Smoke & Carbon Monoxide Alarms together. Create a customized security network suited for your surroundings by placing detectors in multiple rooms. When one alarm is triggered, all interconnected alarms will sound off. This is a tremendous feature that's capable of bolstering your smoke and CO protection. Naturally, you'll be able to check on the function of all interconnected alarms wirelessly through your mobile device while your away from home.
The First Alert ZCOMBO is a state-of-the-art wireless combination smoke and CO alarm designed to provide immediate warning to the presence of fire or carbon monoxide. This combination detector offers dual protection via a photoelectric smoke sensing chamber for quickly identifying fires and an electrochemical carbon monoxide sensor for detecting CO. An 85dB alarm will provide a loud warning when either or both of these dangers are detected. Using a 3V (2AA batteries) power supply, this combination alarm utilizes a one test button to setup, test and silence. This combination alarm will operate with 3rd party, certified Z-Wave devices enabled with the First Alert protocol and the basic command class required by all Z-Wave devices.
This easy-to-install First Alert Z-Wave Smoke and Carbon Monoxide Detector is compatibile with the Ring Alarm Security Kit. The z-wave smoke/co alarm can be installed in residential and institutional areas. Installation settings include: sleeping areas within hospitals, hotels, motels, dormitories and other multi-family dwellings that are defined in standard NFPA 101. The First Alert ZCOMBO-G Smoke and Carbon Monoxide Alarm has been fully tested and complies with UL217, UL2034, CSFM, NFPA 720, NFPA 101 as well as other agencies that model their codes after the above agencies. This combination smoke and co detector meets building codes that require the use of a battery operated z-wave wireless smoke and co detector.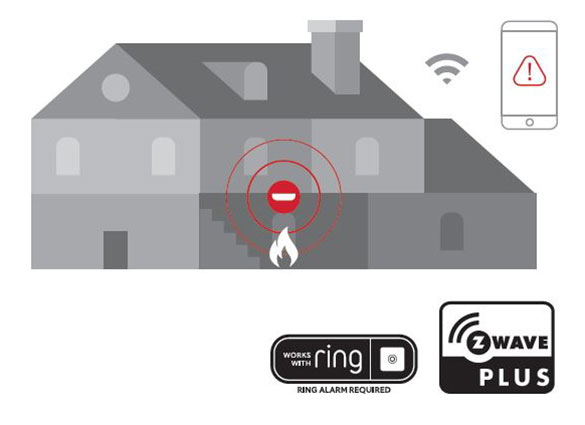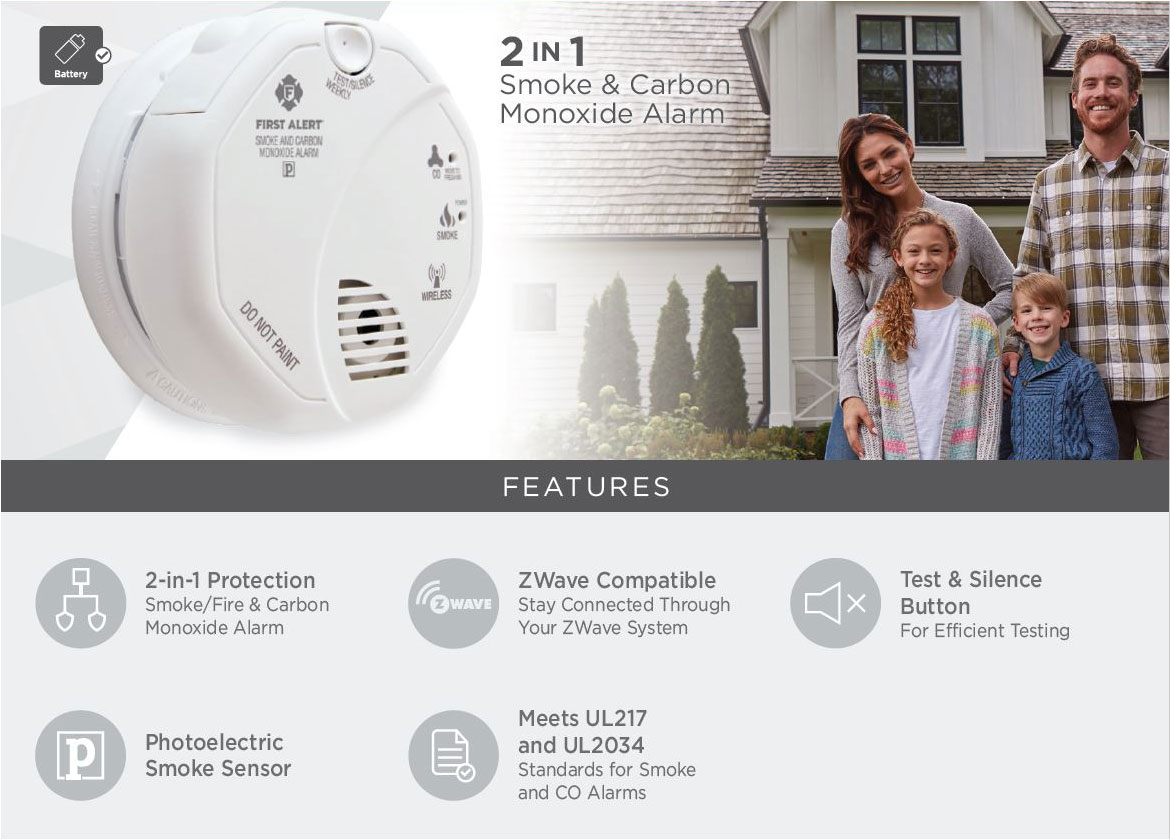 First Alert Store News Archive