First Alert Releases Two New Expansions to the
Incredibly Intuitive Tundra Fire Extinguishing Spray Series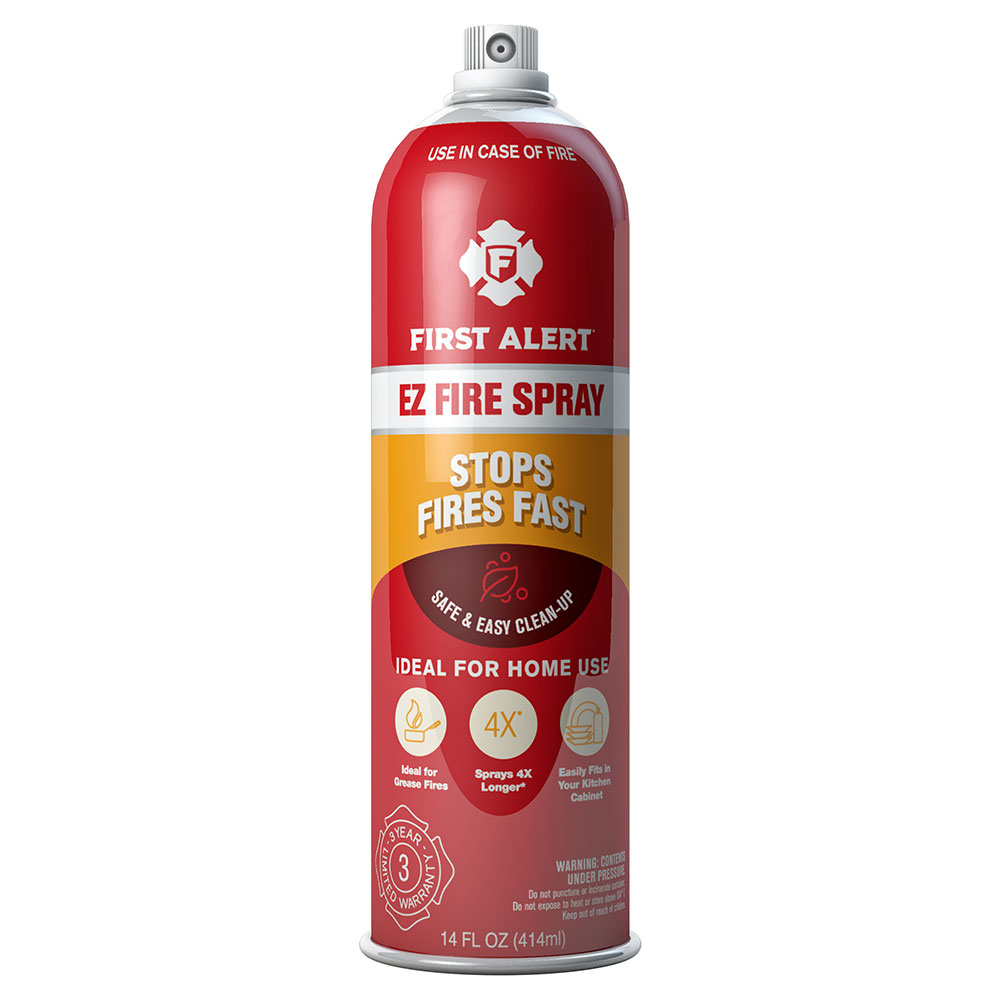 First Alert's highly acclaimed series of Tundra Fire Extinguishing Spray has been celebrated for its incredible ease of use, portability and unsurpassed performance. Representing all of the strengths and none of the weaknesses of a traditionally constructed fire extinguisher, the Tundra surpasses the models of yesteryear with its intuitive design and tremendous output. The FirstAlertStore.com is excited to announce its latest contribution in a collection already renowned for its efficiency and lifesaving capabilities.
The introduction of Tundra Fire Extinguishing Spray was First Alert's solution to successfully mirroring all of the capabilities showcased in a heavy duty fire extinguisher without sacrificing maneuverability and accessibility. A tremendous amount of convenience can readily be observed in the actual sizing of the Tundra model. Measuring at just 14 oz, this product utilizes a simple point and spray technique to handling fires. The Tundra's compact design and heightened attention to efficiency make it a natural addition to any number of settings and scenarios. Regardless of whether you choose to implement Tundra Fire Extinguishing Spray in your home, on your travels or in an outdoor setting, First Alert has released a model specific to your individual requirements.
Available in three differing selections, First Alert's Tundra series offers the ultimate in peace of mind when it comes to establishing a safe environment for you and your family to enjoy. The original Tundra Fire Extinguishing Spray is the premier in home accessory and can be instrumental in minimizing fire damage caused by kitchen accidents and electrical malfunctioning. Additional models such as the First Alert Tundra Auto Fire Extinguishing Spray are a natural fit for any traveling excursion and add multiple levels of safety to any vehicle. Ideal for combating various forms of roadside emergencies, this spray was specifically designed to be implemented in your vehicle of choice. The First Alert Tundra Camp Fire Extinguishing Spray is another solid option that exudes flexibility. Intended for outdoor use in a recreational setting, this is a premier solution for battling the many hazards presented in an outdoor environment.
The introduction of the latest two entries in the First Alert Tundra family fully displays First Alert's commitment in offering the very best in terms of accessibility, portability and overall performance. When it comes to protecting what matters most, First Alert has comprised an excellent assortment of products and accessories that set an industry standard in offering uncontested levels in peace of mind. Regardless of whether you're looking to bolster your fire safety precautions within the home, in your vehicle or on your next camping trip, the First Alert Tundra Series packs everything you need and some to get the absolute most from your experiences without having to worry about the many dangers associated with an unannounced fire.
---